How is pig care in sanctuaries different from the North to the South?
What special things do you have to do?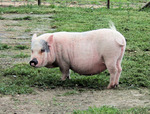 For one thing, food availability is different. Most pastures in the North have good lush grass pastures because of the short Spring and summer, and the winter snow and ice melt. Our grass in the south grows all year long with few freezes. Unless we fertilize and add to the pastures it is usually puny, mostly dry and our pigs can root or stomp it to death down to the sand. Most pigs, except the youngest and the oldest or the ill, can eat a healthy full diet of pasture in the spring and summer months. Here in the south we have to pellet feed all year round to supplement the grass, except when we get a few boxes of vegetables in from the grocers to add to their diet.
Our southern pigs can winter in a shed, stable or hut with either a few blankets or a bedding of hay/straw. Northern pigs have to have heaters, heat lights, or heat boards in the stalls, barns, or very well insulated huts. Some sanctuaries have to remove the snow by tractor away from the huts so the pigs can go out for food, water and potty, or they would be snowbound all winter. Some keep their pigs in a large barn with doors closed and clean up the poop from inside, as you would horses.
We don't have to buy expensive heated waterers for our herd. Some large sanctuaries even have to build wind shelters or a shed over the waterers to keep the snow drifts away and to allow the pigs to drink fresh water with less exposure to the elements. These waterers can cost from $200.00 up to $800.00 each depending on the sizes. If you have a few pigs you can break up the ice in their water bowls by hand several times a day adding warm to hot water to keep it from freezing too soon, but even this is horrible to do when it's freezing outside. If a snow storm knocks out the electricity, that is bad news for large sanctuaries because of the heating or water needed. Water lines can freeze and burst, making it difficult to provide water daily. Pigs drink as much or more water in the winter as they do in the hot summer, so available water is an important element to a sanctuary. Although you can feed pigs once a day when necessary, if snowstorm conditions arise the pigs may have to wait for 24 hours or longer before food is delivered close by for them to find.
Winter is much harder on pig's health. Many more pigs are ill with pneumonia, bladder infections from holding their bladders too full or too long or not drinking enough. Injuries from ice and snow accidents such as broken bones, injured muscles, or sprains happen easier in the cold, wet, and iced areas. Some pigs are just too old to winter well and have to be vetted or euthanized because of the cold conditions. Our old pigs here in the south have to winter also, but they have only a few weeks to days of freezing weather to get through. Then comes the Spring thaw and all the river and creek flooding happens. There is also wet, muddy ground, and difficulties getting around for the animals and people alike. These are again bad conditions for slipping and injuries. With us we have just a few days or weeks of rain, and it seeps into the ground here in the south much easier so we have much less flooding and mud.
As for the individual pigs, most potbelly pigs hate the cold and would rather sleep hunkered down all winter. Most of the big farm pigs love the cold weather and will play out in the snow and ice as much as they can. Feral pigs are mostly the same, they'd rather play than sleep, and Kune Kune pigs are winter fans also. Of course there are exceptions to this rule. I've seen a few potbellied pigs romp in the snow when the sun is shining.
I know there are many more subtle differences, but the main differences between the north and south for sanctuaries are due to the weather conditions. Southerners have to worry about hurricanes and heat stroke, not to mention that our lightening strikes here in Florida are very large, violent and frequent in daily summer storms. Our bugs are worst and last longer during the year, and some diseases don't die in our milder winters so we have viruses and bacteria all year long. I guess that's about all we southerners really have to worry about, except for the few truly cold days and nights we may have. Lucky, aren't we? Su Lee
--
Su Lee @ BrodiePig Farm in sunny Florida
Rescuing ~ Placing ~ Transporting
My Family: Brodie, Cadence, Aidan, Leila, & Helen
PLEASE CONSIDER DONATING FOR CHRISTMAS TO HELP THE ANIMALS
You can give through
www.paypal.com
to rescue@farec.org or mail a check to FAREC, 1822 Meister Hills Rd., Deer Lodge TN 37726
All donations are tax deductable and goes to the animals.